Meals tend to be the main event of a holiday and with Thanksgiving this is especially so! Gathering with friends and family to prepare and eat the same dishes you have eaten every year can be comforting, but the feeling you have after sampling every flavor of pie is anything but.
Here are some tips to help you enjoy the holiday without the struggle:
Grab some healthy snacks
Crunchy raw veggies, such as bell peppers, carrots, radishes, and cucumbers, paired with hummus or bean dip provides a refreshing alternative to nosh on while you're cooking. Similarly, some sliced seasonal fruit, such as pears, apples, or persimmons, will boost your energy without filling you up before the big meal.
Ditch the casseroles
  We all have our favorite, whether it's green bean casserole, sweet potato casserole, squash casserole, cheesy broccoli casserole, or even mashed potatoes, these are all very similar in texture, not to mention quite dense. Consider adding one of the following to your table:
  -Roasted Vegetable Medley -There are several in-season vegetables to choose from, including butternut squash, sweet potatoes, Brussels sprouts, carrots, beets, turnips, and parsnips. Roasting them brings out their natural sweetness and results in that perfect "al dente" doneness. The trick is to chop them all about the same size so they get done at the same time.
-Fresh Salad – Cross a task off your to-do list by letting Vinaigrette Salad Kitchen cater. The Harvest Kale Salad with its sweet potatoes, cranberries, and honey balsamic dressing would be exceptionally fitting!
-Fresh, not canned Green Beans – Whether you sauté, roast, boil, grill, or blister, there are several alternatives to the traditional green bean casserole.
Sit down and enjoy your food
It's easy to get distracted from what you're eating with all the hustle and bustle. Take the time to put your snacks and appetizers on a plate or napkin and sit down to truly enjoy them in all their deliciousness! Your mind will more easily register that you ate something and you may find you are satisfied after one serving.
Keep an open mind
Taste preferences can change and you may find you don't enjoy a particular dish as much as you previously thought. After the first couple bites, decide whether you'd rather save room for something you really love.
Get comfortable saying no
Whenever you're eating around family, especially food that they've prepared, the amount that you eat often falls more in line with what would communicate something to the cook rather than what makes you comfortably satisfied. It is not your responsibility to make someone else happy by overeating.
Challenge the last supper mindset
Sure most people only prepare several of the traditional Thanksgiving dishes on the actual day…but that doesn't mean you can't have it year-round. Telling yourself that today is the only day you'll be able to eat these foods sets yourself up for overeating and leaves you feeling as stuffed as the turkey. Besides, those leftovers will probably be around for a while.
Be a savvy saver
The holiday hustle and bustle isn't over yet! If you were the host, try freezing all those leftovers and pull them out throughout December when you need a quick meal in the midst of the remaining chaos. Need meal ideas for Black Friday and the rest of the weekend? Let Vinaigrette Salad Kitchen cater soups, salads, or grain bowls so you can stay cozied up…or consider stopping by, whether you need a break from shopping or just want a family activity!
by Amy Camenisch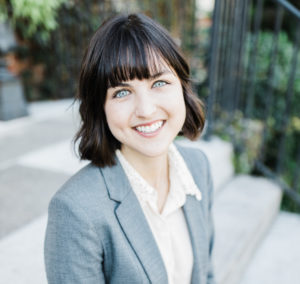 Amy Camenisch, MS, RDN, LD, CLT is the owner of Amy Lorraine Nutrition, LLC, and sees clients virtually and at her Lexington, KY, office. She specializes in gastrointestinal nutrition, helping individuals identify the cause of their symptoms and find relief, all with a Health At Every Size approach. Call 859-474-0306 or email amy@amylorrainenutrition.com to make an appointment. You will find her blog as well as the ability to schedule online at her website: www.amylorrainenutrition.com